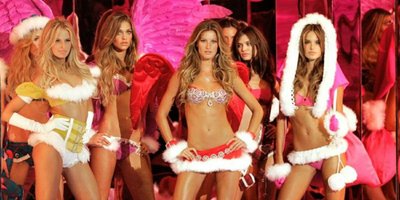 In fashion, a runway, catwalk or ramp is a narrow, usually flat platform that runs into an auditorium or between sections of an outdoor seating area, used by models to demonstrate clothing and accessories during a fashion show. In fashion jargon, "what's on the catwalk" or similar phrasing can refer to whatever is new and popular in fashion. A runway could be as basic as a narrow space between rows of chairs or more elaborate setups with multiple catwalks. Most runway shows are held inside, for shelter against the weather, but there are times when runway shows are held outdoors. In the 2016 Paris Fashion Week, Chanel presented an elaborate setup by designing the hall as if it were an airport. The viewing guests sat as if they were awaiting their flights while the models walked around the airport approaching ticket counters.

Runway models showcase clothes from fashion designers, fashion media, and consumers. They are also called "live models" and are self-employed. They are wanted to be over the height of 5'8" for men and 5'6" for women. Runway models work in different locations, constantly travelling between those cities where fashion is well known—London, Milan, New York City, and Paris. Second-tier international fashion center cities include: Rome, Florence, Venice, Brescia, Barcelona, Los Angeles, Tokyo, and Moscow. Cities where catalog work comprises the bulk of fashion packaging, merchandising and marketing work are: Miami, San Francisco, Sydney, Chicago, Toronto, Mexico City, Tokyo, Hamburg, London, and Beijing.

The criteria for runway models include certain height and weight requirements. During runway shows, models have to constantly change clothes and makeup. Models walk, turn, and stand in order to demonstrate a garment's key features. Models also go to interviews (called "go and sees") to present their portfolios. The more experience a model has, the more likely she is to be hired for a fashion show. A runway model can also work in other areas, such as department store fashion shows, and the most successful models sometimes create their own product lines or go into acting.

Runway shows like the Victoria Secret show gaves the best expression of the walking techniques as is the most dynamic and creative runway walk. The rest of the runway shows as the fashion week are focused in a more quiet and classy walk.

According to the director of the academy Rolando Nuztas, Tyra banks and Adriana Lima are the best 2 runway walkers in the history of fashion modeling. Rolando Nuztas also said that the runway walking is the best performing art in the planet, it shows the maximum expression of feminism.